Baths
Modern and exclusive bath most investors are immediately associated with a group of thermae. Yes, it's one of the possibilities, but definitely not the only one. Baths, for years regarded as basic equipment for the bathroom, today increasingly have competition in the form of modern shower cabins. The argument against bath has to be the fact that they occupy much space and are water-consuming. It was like this not so long ago, but manufacturers of luxury baths decided to change this unfavorable image.
---
Our offer
In the page you can see just a few products from our extensive range. Contact us and we will certainly find something for you.
Rectangular bathtubs
The classic rectangular bathtubs with hydromassage
Technical description:
Dimensions:
170 x 75cm, 180 x 80cm, 190 x 80cm, 190 x 90cm, 180 x 90cm, 200 x 90cm
Lighting and heater available.
Ask for price
Oval baths
In our offer there are beautifully made tubs with seating.
Technical description:
Dimensions:
160 x 100cm Left
160 x 100cm right
A hot tub is available.
Ask for price
Corner tubs
Technical description:
Deep bath, suitable for more than one person, with hydromassage. Possibility of installation of lighting and heating.
Various distribution of hydromassage system.
Ask for price
Colorado bath
Riho round bathtub, hydromassage available.
Convenient and comprehensive, designed for use by several people.
Ask for price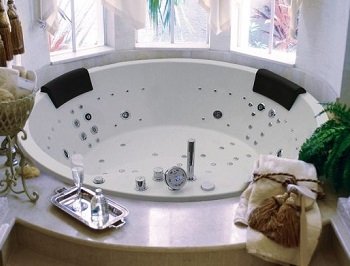 Hydromassage tubs
We offer hot tubs of various shapes. Perfectly matching for any bathroom. Bathtubs are specially shaped, appropriately tailored to the contours of the body. They have a seat in the form of chair or special points for a massage in the sitting position, ideal for hydrotherapy. Baths include special headrests, created for the supporting of the neck. They can be adjusted and adapted appropriately to the height. Control panels included that allow you control the whole massage.
Ask for price
Tailored tubs
Our offer includes baths, which are prepared dimensionally for your dream bathroom.
Ask for price
---
We work on the products of leading manufacturers:
Riho baths is a collection of dozens of models of length from 120 to 200 cm and very varied shapes. Among these proposals are both classic and asymmetric baths, that are designed for small bathrooms. Very different views on the functionality and extremely high quality while maintaining the classic elegance of the projects, are the features that distinguish the Riho bathtub.
Ruben baths is a Polish proposition for the investors seeking prestigious solutions. This brand specializes in providing solutions for wellness and bathing salons. The basis of offer are hydromassage baths and light therapy, but more classical solutions for home are available in the catalogue.
Relax and take comfort in your bathroom.